Bonanza slot review
Bonanza is one of the best slots on the market currently if we have to choose, it has everything you are looking for. The line system is not regular, where you have like 20 or 50 pay lines. In Bonanza, you can have up to over 117,000 lines to win on. With mega ways, the amount of winning lines is random on every spin. You can read about mega ways in our article about mega ways. With a very playful design and great music, you will most certainly enjoy this slot. It is provided by Big Time Gaming, which also has made Danger High Voltage, White Rabbit, and the "Bonanza v2" Extra Chili. Make sure to check them out. Both White Rabbit and Extra Chili have a feature where you can buy the bonus, very exciting.
Bonanza Paytable
When you are checking the paytable it might seem like you can't win that much but it is not correct. I have seen wins that are over 14,000x on Bonanza which is insanely much. With only 1 euro stake you would win 14,000 euros just of one spin. With that said you should know that the megaways and the bonus is a factor of making that happen. If you read the guide about megaways you will understand the potential. The best symbol is of course the diamond and the scatter symbols. Below you can see a picture of the paytable of Bonanza.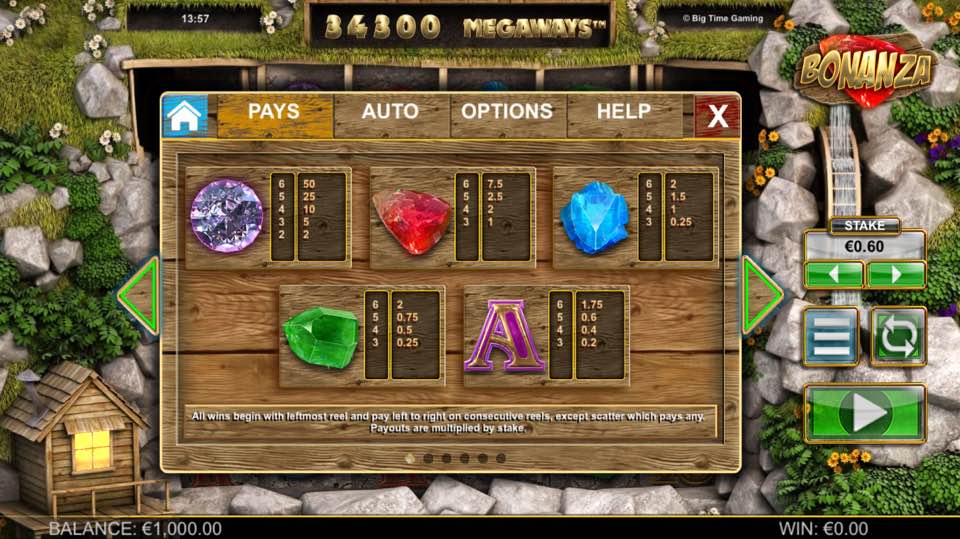 Bonanza Feature
You trigger the scatter by getting the 4 scatter symbols GOLD which awards you with 12 free spins. There is a chance to get +5 extra spins up to 3 times. The feature is possible to retrigger and you will need 3 gold symbols in the extra field, you can see on the image below how it should look. If you get that you are awarded with 5 extra spins.

When you are in the bonus you are looking to get as many wins as possible of course, in Bonanza each win gives you one extra multiplier. So if you win 10 times you have 11x multiplier. So you are looking for the big wins in the end since you have the highest multiplier by then.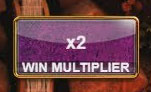 Bonanza wilds symbols
Most of the slots has a wild feature and so do Bonanza but it is a little different. You will not be able to get more than 4 wilds and they only appear in the top row with 4 places. It is the same row as we mentioned in the feature section. Below you find a image of how it can look when you get wilds in the slot. You might ask why you are not able to get them on the regular play field. It is basically because it would make the slot to good to have out on the market because of the megaways.

Bonanza mobile version
It works flawless to play Bonanza on the phone, it works on all the regular phones with iOS, Android or Windows Phone. You can play the slot where ever you are as long as you have a smart phone and internet connection. The mobile usage of mobile phones in the casino market has grown a lot lately and the most providers offers their slots for mobile users also.