Guide to the best jackpot slot machines
We all have dreamed of hitting that jackpot one time. Here the journey to the jackpot could start. We will list our hand picked slots that offer you a chance to win the jackpot. There are some different type of jackpot games and we will include some of them – the progressive and also the random jackpot.
The casinos often adds up over time and are reseted after someone won it. The most common structure of jackpot slots is the ones that have a mini, minor, major and mega. The mega is the one that you often are looking for since that is the one that is the biggest. The major could also be pretty juicy on some slots depending on how long it was since it was won.


Mega Moolah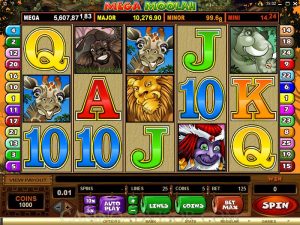 Mega Moolah may be the most popular jackpot slot and they have the world record of the biggest payout from a single spin which currently is at 13.2 million pounds. The provider of Mega Moolah themselves wrote "£13.2 million won by a British soldier is recognised by the Guinness World Records as the largest jackpot won on any online slot game." on their homepage. Mega Moolah is using the most common structure of mini, minor, major and mega jackpot and both the major and mega is very good. To trigger the jackpot wheel you will just have to play the game and it will be random triggered with a possibility on every spin.
Jackpot Giant

Jackpot Giant is a very good jackpot slot also, this one often has a very high jackpot also but it is only a mega jackpot which currently is on 9.2 million pounds. The slot is brought to you by playtech, it has nice graphics and is overall a fun slot to play. The average jackpot is triggered when it is around 5.4 million pounds and it is triggered twice a year (on average). To trigger the jackpot you will have to fill the center line with wilds on each reel, it is very hard but if you do you will be awarded with a great amount of money.
Mega fortune dreams

Mega fortune dreams is also a jackpot slot and you could even hear that from the name of the slot, if you win this one you will have a mega fortune. There are also a regular Mega fortune which also has a jackpot, those two slots is separated though so they do not share the jackpot. The jackpot is paid out on average 3 times a year and pays around 2 million pounds. To trigger this jackpot you will have to get three bonus symbols in the base game, this triggers a wheel that you will have to spin and progress into the middle and if you go all the way you will win the jackpot.
Hall of Gods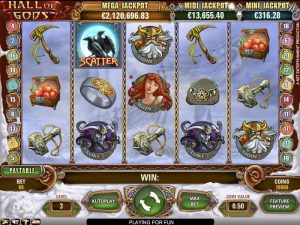 Hall of Gods is pretty similar to Mega fortune dreams as it is triggered the same way, you will have to get 3 bonus symbols and then you will get into a bonus game. Instead of a wheel they fill the screen with shields that you will have to choose between. There are three different types of jackpot that could be won – mini, major and mega and you will have to match 3 symbols with some of this icons in the bonus game to win the jackpot. Hall of Gods is also a good slot to grind the base game since it has scatters also.
So above you have some great options of jackpot slot machines, but there is a lot more out there so make sure to check around until you find the one that fits you. Another option instead of the jackpot games is the high volatile slots, in some of those slots you have huge potential of winning big. Since there are over 4000 slots on the market currently there are one for everyone – you just have to find the one that suits you!